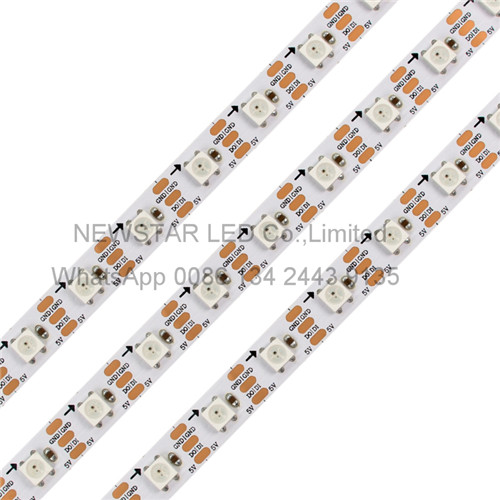 60pcs SK6812 Addressable LED Strip 5050 RGB Full Color DC5V IP20
SK6812 Addressable Light Strip Spec: Voltage: DC5V Led type: 5050 SMD RGB LED IC type: SK6812 PCB Width:10/12mm PCB Thickness: 2Oz/4Oz PCB Color: Black/White Led lighting angle: 120° LEDs Per Meter: 30leds/m, 60led/sm, 72leds/m, 96leds/m, 144leds,198leds/m
Description
Package Information
Inquiry
NEWSTAR LED SK6812 Addressable LED Strip comes with golden wire, copper frame LED and 2Oz/4Oz double layer PCB, which can ensure the best heat dissipation and long life-span. The LED we packed by ourselves which can ensure the quality, the highest cost-effective and on-time delivery time. SK6812 RGB full color led strip light comes with internal IC, which is individually addressable and achieve any length as per your project requirements.
SK6812 Addressable Light Strip Spec:
Voltage: DC5V
Led type: 5050 SMD RGB LED
IC type: SK6812
PCB Width:10/12mm
PCB Thickness: 2Oz/4Oz
PCB Color: Black/White
Led lighting angle: 120°
LEDs Per Meter: 30leds/m, 60led/sm, 72leds/m, 96leds/m, 144leds,198leds/m
IP Grade: IP20, IP65 with Silicone glue, IP67 with Silicone tube, IP68 with Silicone tube and glue.
Individually Addressable
Cuttable: By each LED
Warranty: 2 Years
Certificate: CE RoHS
SK6812 RGB Full Color LED Tape Advantages:
1. DC5V with internal IC, Individually Addressable
2. Can be cut by each LED and achieve any length as per requirement

3. San'An brand LED ensures a long lifespan 50000hrs

4. 2Oz/4Oz double layer PCB Hongqi brand to ensure a perfect heat-dissipation and smaller voltage drop

5. Easy installation with 3M adhesive and screw+clips for waterproof type

6. Controller System:SD controller, DMX controller, Artnet and so on. (SPI protocol)

SK6812 5050 RGB Flexible LED Lighting strip dimensions
30pcs SK6812 5050SMD LED Strip Light


60pcs SK6812 RGB Full Color Flexible LED Strips

72pcs SK6812 Digital LED Strip DC5V IP20

144pcs SK6812 Addressable LED Strip Light RGB Magic Color