What is COB Flex Strip? And how we produce COB Strip?
Views : 1806
Update time : 2021-04-12 15:42:00
https://youtu.be/vJIS87XMUZM
What is COB?
To Lean how we produce COB Strip, let's figue out what is COB. COB - Chip-on-board, which mean package the LED Chip directly on PCB, then cover with phosphor. Normal SMD LED is with LED, phosphor, plastic reflector and bracket.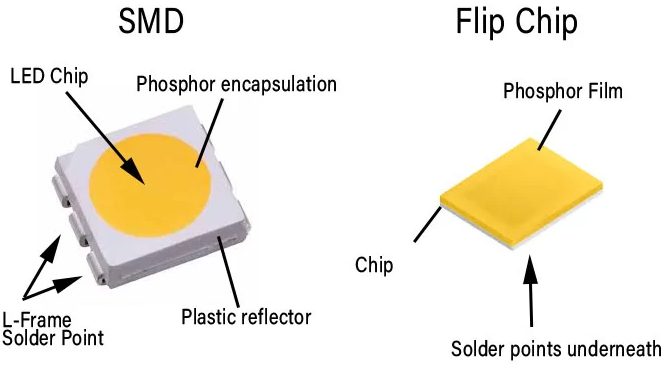 How we produce COB Strip?
As you may refer to the above COB Strip production video, the first step is to package the LED Chip to PCB, then it will pass the shaking test after reflow-solder, which will avoid the losse soldering effectively. Second step is to cover the led chip with phosphor, then cob strip can be different color. After cover with the phosphor, cob strip will put into the specific oven, then we'll test the strip again to ensure all LED Chip works well. The last step is same as normal SMD Strips, sordering the 0.5m PCB together.
What is the advantage of LED COB Flex Strip?
Along with the confirmation on COB Strip's quality and stable performance, COB Strip will be next trend and upgrade of strips, since the advantage is outstanding - Much better lighting effect without spots and dark area. More LED Chips per meter makes a more uniform light and high brightness.
Choice on COB LED Strip Spec.
COB Strips can be different single color, 2800-6500K white/Red/Green/Yellow/Blue, NEWSTAR LED also has COB Strip with RGB and CCT changeable for choice. It can be waterproof IP65 with extruded silicone glue, IP67 with silicone tube and IP68. There is different watt and leds per meter for choice, such as 384leds, 456leds. 480leds, 512leds and 840leds etc.
The Conclusion.
Our COB Production line is working 24hours per days to meet our customers needs on delivery, the sells increased very quickly, as our boss says, it's the trend of market developing, that's why we are importing more machines and expand production capacity. If you are selling LED Strip, welcome to contact us for Free samples, we'll be glad to send it for your testing.